I hope everyone had a great Christmas and as we're still in the thick of the holiday season, here's an extremely simple and quick stir-fry for a satisfying meal with minimal prepping.  I have always been a big fan of lamb, and today's stir-fry is simply lamb slices cooked with ginger and scallions/ green onions in a simple soy-based sauce.  If you find lamb too gamey for you, feel free to substitute with beef and it will be preferable to buy thinly sliced beef for this dish.  The thin slices ensure that you will not need to marinate the meat for long since it will be easier for the meat to absorb the seasoning.

From my understanding, lamb and mutton are used a lot in Chinese Islamic cuisine and is more common in the western and northern parts of China.  Stir-frying with ginger and scallions is however a popular Cantonese style of cooking especially with beef but I chose lamb today as some of my diners do not eat beef due to religious (Buddhist) reasons.  Personally, I like the taste of lamb although some may find it too gamey. Ginger and scallion slices fried till aromatic do well at eradicating most of the gaminess. I love adding Chinese rice wine or Shaoxing wine (绍兴酒) as well while cooking – I highly recommend keeping a bottle of Shaoxing wine in your pantry for your Chinese cooking purposes as it imbues a lot of popular Chinese dishes with a delicate and pleasing fragrance. If Shaoxing rice wine is not readily available, you can use cooking sake instead.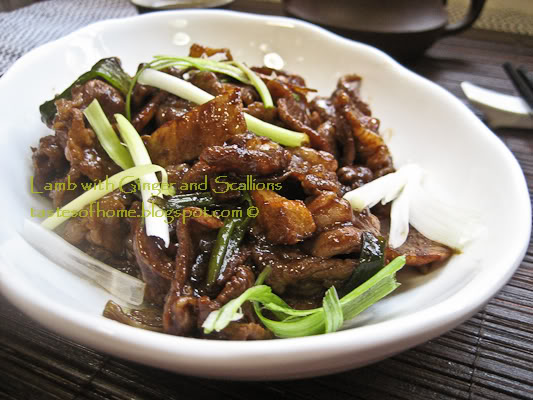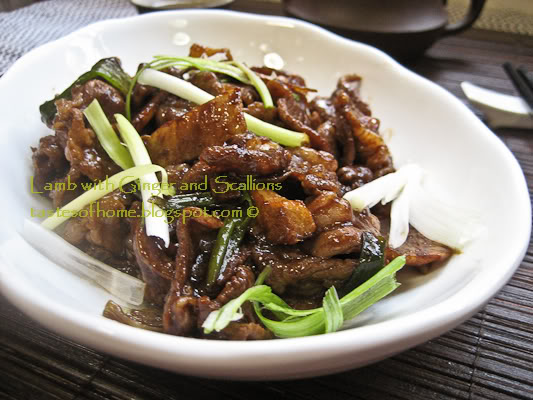 Ingredients:
16 slices of thinly sliced lamb (can be found in most Asian grocery stores) – lightly marinated in light soy sauce
6 slices of ginger
4 stalks scallions/ green onions, sliced lengthwise (save some for garnish)
5 cloves garlic, minced
Seasoning: (as always, do a taste test and add more sugar or soy if needed)
1 tbsp light soy sauce
1 tsp dark soy sauce
1 tsp oyster sauce
2 tbsps Chinese Shaoxing Wine (Chinese Rice Wine)
2 tsps sugar
1 tsp mirin (optional)
1 tbsp water
Drop of sesame oil
Dash of white pepper
1 tsp cornstarch mixed in 1 tbsp water

Method:
Firstly, heat about 2 tbsps of cooking oil in your wok.  Once hot, turn heat to medium-low and saute garlic, ginger and scallions till aromatic.  Add the lamb slices into your wok and stir-fry around till almost cooked.
Meanwhile, mix the seasoning ingredients in a bowl (excluding the corn starch mixture).  Turn heat till high again, and pour in the mixture.  Stir-fry around until most of the water has evaporated.  Stir in the cornstarch mixture.  Mix well to coat.  Dish up and garnish with remaining scallions.  Serve hot with steamed rice.